Kingroot v4.9.5.20160728 is an Android App used for rooting Android devices running between Android 2.3 to 7.0. It offers a simple one-click root button allowing users administrative access over their devices.
Rooting can give users more control over their devices and enable them to perform tasks that are otherwise restricted by the device manufacturer or carrier.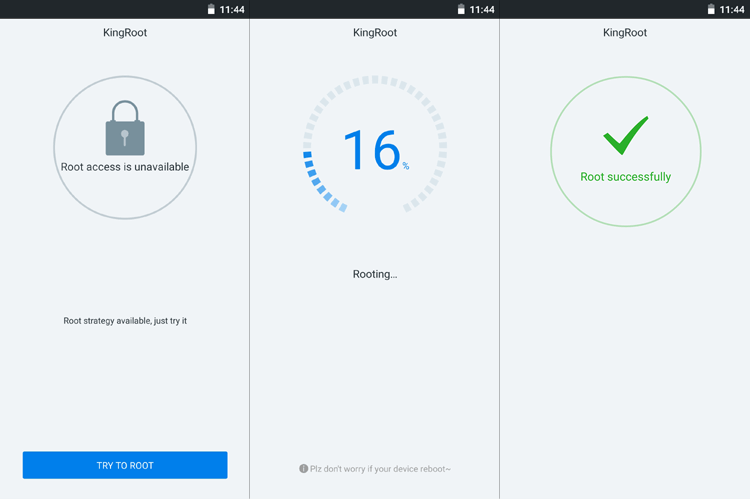 Kingroot v4.9.5.20160728 APK for Android Devices
KingRoot is a user-friendly app for Android devices that enables one-tap root access on Android devices. While it may offer certain benefits, it's important to understand the risks and outcomes associated with rooting is crucial.
Here are some situations where you might consider using Kingroot or any other Android rooting tool:
System Access: Rooting enables superuser rights on your device, granting administrative permissions. This higher access level facilitates system modifications, offering extensive control over your device's operational parameters.
Remove Bloatware: Android devices often carry unremovable preinstalled apps or bloatware. However, rooting your device offers access to eliminate these preinstalled apps, streamlining your system's operations and freeing up storage space.
Custom ROMs: Rooting unlocks the ability to install custom ROMs, alternative versions of the Android OS. These can augment your device with enhanced features, superior performance, and more efficient battery usage, significantly optimizing your user experience.
Improved Performance: Certain apps that boost device speed or optimize battery life necessitate root access to operate effectively. Rooting thus empowers your device to utilize these apps, enhancing its performance and energy efficiency.
Advanced Backup and Restore: Though Android provides basic backup and restore functions, rooting your device enables comprehensive backups, allowing for a complete restoration in the future. This ensures maximum data security and system recovery potential.
Additional Customization: Root access facilitates deeper customization of your device, letting you modify interface aesthetics and system operation methods, thus personalizing your device beyond standard constraints and aligning it more closely with your preferences.
Download Kingroot v4.9.5.20160728
| | |
| --- | --- |
| Name | Kingroot v4.9.5.20160728 |
| Type | One-Click Root App |
| Developer | KingxTeam |
| File Name | Kingroot_4.9.5.20160728.apk |
| File Size | 13.02 MB |
| Version | 4.9.5.20160728 |
| Supports | Android 2.3 to 7.0 |
Mirror 1 (Mediafire)Mirror 2 (Mega)Mirror 3 (Pcloud)
Frequently Asked Questions
What is Kingroot v4.9.5.20160728?
Kingroot v4.9.5.20160728 is a rooting app for Android devices, providing a simplified, one-click rooting process, thereby allowing users to achieve superuser rights on their devices.
How do I install the Kingroot?
You can install the Kingroot v4.9.5.20160728 by downloading the .apk file and installing it on the Android device. The installation process is quite similar to the standard Android App. You can follow the How to install the Kingroot page to install the Kingroot App correctly.
Is Kingroot v4.9.5.20160728 Free?
Indeed, Kingroot v4.9.5.20160728 is entirely free. It was made accessible for users to download and utilize at no expense.
Is Kingroot v4.9.5.20160728 Safe?
Indeed, Kingroot v4.9.5.20160728 is completely secure for PCs, laptops, and Android mobile devices. It includes numerous Android Exploits that are utilized to root the Android device.
Where Can I find Framaroot App?
If you're searching for the Framaroot App, which lets you root Android devices running on versions from 2.3 to 4.3, then you should go to the Framaroot website.